With a campervan the age of Van Diesel it's essential to have breakdown cover. I have to say finding a company to cover us was a real challenge. What were the problems?
Van Diesel is 18 years old and most companies only cover vehicles under 15.

Secondly whilst most companies offer a UK and Europe policy they only allow 30 days outside of Blighty in one chunk, which was no good for us.

Thirdly we had to find a company that covered all the countries we wanted to visit within their policy.

And lastly they had to not cost the earth!
In total I contacted 17 different UK companies without success. AA was the only company who met all the criteria we required but due to Van Diesel's age they placed a whopping surcharge of the cost of their cover.
I posted about our difficulties on the site and in no time at all I had responses from two very helpful readers who both recommended we contact German company ADAC (big thanks guys!). After a quick look at their website I got in touch via email and soon enough I had a reply saying that they would cover all of our needs for just 96 euros, their flat rate regardless of vehicle age! We were also covered to be out of the UK for the whole 365 days of our policy if we so wished! I filled out the forms, paid up and in no time at all the confirmation documents landed on the doormat.
They provided us with a local number for each country to ensure any breakdowns were responded to as quickly as possible and that we'd speak to someone who knew the country and its road systems well, as well as of course speaking the local lingo.
We hadn't been on the road long when the van refused to start early one afternoon in a Bilbao car park. We called the Spanish representative and just over an hour later a tow truck arrived to take Van Diesel to a garage we'd agreed with the ADAC rep.
A few homeless hours later it became apparent we wouldn't be getting the van back for the night. ADAC called to let us know and said they would arrange for us to spend the night in a hotel, unless we wanted to pick a hotel up to the value of 69 euros each and have they pay for it. After a stressful day (and content that anywhere with hot showers would be wonderful) we opted to let them go ahead and organise it for us. Shortly we received a call to tell us that we would be put up for the night in a lovely 4 star hotel close to the garage fixing Van Diesel. They even offered to pay for a taxi to take us to the hotel and then from the hotel to the garage but we declined since it was such a short walk! We just turned up, flashed our passports and it was 4 star luxury, hot showers and endless wifi until the very last minute before we had to check out! Fantastic service!
Shortly after we had some problems in Santander and took the van to a local garage. After several hours the grumpy mechanic claimed Van Diesel was unfixable and we should call a tow truck as it wasn't safe to drive. Since we were struggling to communicate and utterly freaked out, we put the mechanic on to the ADAC rep who explained in no uncertain terms that if they were going to declare the van unfixable (and thus ADAC would have to repatriate it to the UK) then the mechanic better be damn sure it wouldn't drive. The van was then put immediately back up on the ramps and the mechanics were out in force to get it fixed. Sure enough a little while later the unfixable van was magically fixed!
After that Van Diesel behaved for quite a long while…until the big break down in France on our way home. The pipe connecting the turbo to the exhaust split clean in half and Van Diesel sounded like a tank! Once again a quick call to ADAC and an hour later local garage tow truck arrived to get us. ADAC stayed in touch with the garage to translate to us the problems and the possible solutions. When it became apparent that the van could not be fixed in time for our ferry the following week, the representative suggested that ADAC would get the van shipped back to the UK and pay for us to fly back. They texted us details of the nearest airport and the available flights for the following day. They arranged everything with the garage and made sure we had given them all the documents they'd need. The representatives we spoke to were incredibly helpful and very sympathetic to our nightmare of a situation.
The following day we got a 175 euro taxi to the airport, we booked ourselves a 330 euro flight back to Gatwick and once in the UK spent 20-odd quid on getting back to Chris' Mums.
ADAC kept us informed as to when the van would be back in Britain and it arrived at our designated garage in 2 and a half weeks. They explained it would have been quicker if not for our breakdown having happened the middle of nowhere!
Not long after we sadly received a letter to say that since we had claimed so much they would be cancelling our policy. As sad as this made me I can understand that we did need so much help in the first 6 months of our policy that a further 6 months would be too much of a risk for them. Nonetheless, it didn't feel great to be back at the drawing board!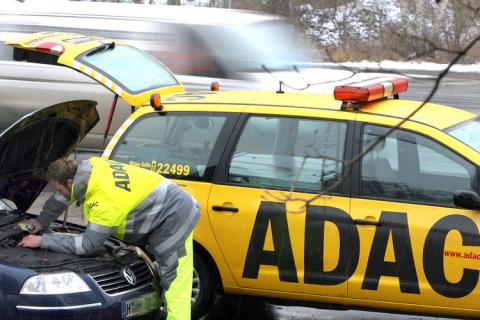 It's now been over 2 months since the breakdown and after a fair few calls to Germany I have finally been reimbursed for the trip back to the UK. It seems like a long time and I have to say I did start to get a little annoyed at the delay but I'm sure I would've had a similar wait with any other company. Despite saying they would only cover the first 30 euros of any taxi journey, they have in fact reimbursed us for the whole 175 euros! I'm over the moon that they've paid the entirety of the cost of our return to England as well of course as shipping back Van Diesel (no doubt a very costly affair!).
I have to say that I would hand on heart thoroughly recommend ADAC to anyone in need of breakdown cover. Their policy is fantastic value and the service we have received is nothing short of exemplary. A breakdown situation can be stressful at the best of times, but even more so when your vehicle is also your bed for the night! Add onto this the fact you're in a foreign country where you can't communicate with the mechanic and you are in for a ton of stress. Having an experienced, cool, calm and collected ADAC representative on the end of the phone in a time like that is an absolute life saver! So thank you yellow angels for your superb service. We'll certainly miss you!
Britannia Rescue, you have a LOT to live up to!